Tbh, I kind of never want to hear the word "meme" again.
Anyway….
MEMES
In class this week, we explored the fascinating world of meme-making and meme-meaning-making(?)~ In order to accomplish that, we had to descend into the depths of those dank memes I hate myself. We got our hands dirty making our own memes.
The Make Bank gave our creative selves some direction, though. More, it provided some purpose to why we were exploring memes as well as some ideas about how memes can communicate more than just a silly joke or a cultural phenomena.
For example, the first activity asked us to not only "meme the meme" but find out where it came from. I made 2 though I really only discovered the background on one of my memes.
The first meme I made is the featured image on my post. Most of may know him as the screaming ART guy (he made an appearance as the featured image on my last post on digital art). I was not able to find him in the Know Your Meme database but I was able to find out through the Iron Giant Wiki the character is from the movie The Iron Giant and his name is Dean McCoppin. He is a beatnik and a scrap artist who helps the main character of the movie, Hogarth, with the Iron Giant. (I'm adding the movie to my too-watch list so I can discover the context for myself~)
My second meme is perhaps more in line with what the activity was asking of us: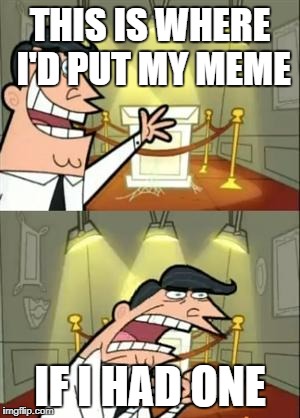 This meme is called "This Is Where I'd Put My Trophy, If I Had One" and has its origins in the Fairly Oddparents animated cartoon series. According to Know Your Meme, the titular phrase that inspires this meme comes from an episode titled "Father Time." Here's a clip of the scene:
The phrase is said by the father of Timmy Turner, the series main character. In the episode, Timmy travels to an alternate timeline where he meets his father, who is the dictator of the world but never won the prized childhood marathon trophy that the father in Timmy's timeline did. Thus, the meme is used to convey anger that the user is without something they want.
The second activity had us meme a hobby or interest of our own. Which, I think is a creative idea. I've never heard of it before and I don't think the genre is a big one if it exists on the world wide web. That may be because the memes are more personal and it's usually memes that resonate more universally with people (like the Tide Pods meme) that spread and get remixed and re-memed.
Anyway, I chose to meme something near and dear to my heart: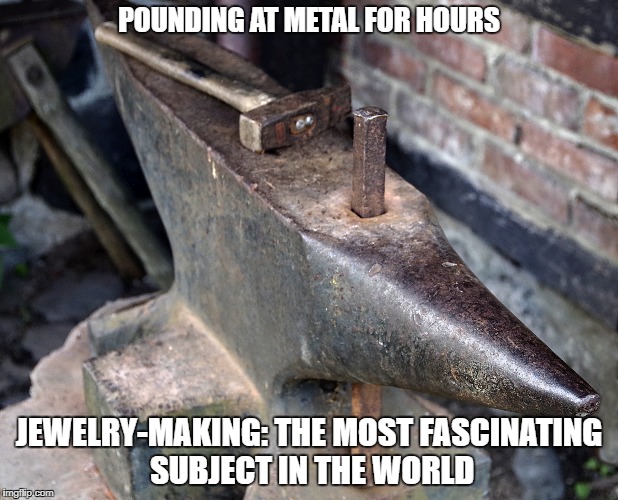 I found the photo on one of the free image-sharing sites recommended and memed it. Again, because it's specific, I'm not sure if anyone else gets it or finds it remotely funny but I guarantee if I shared with some friends from the studio or if I printed it out and hung it up in the Metals studio on campus, I'd get some chuckles.
What do you think? Are personal memes just that–personal? For those of you who don't bang on metal in their free time, has this meme conveyed anything to you about the jewelry-making process? Let me know~
As for the final activity, we memed an episode of Black Mirror–"Nosedive". For anyone who doesn't know what Black Mirror is, it's a anthology TV series available on Netflix. Each episode essentially explores the extremes of advancing technology, the results of which are usually awful, unsettling, disturbing, or some combination of the three. In "Nosedive", as put in this article about the episode, the question, "What if phones but too much?" is explored. More, what if social media controlled every aspect of your life from your social life to your job to your housing to your access to basic amenities and services. It's wild, to say the least. A nightmare, to say the most.
Anyway, we got some great memes out of this episode. Like this one:
I watched over the creator's shoulder >.> as they made it and I got to say, I'm kind of jealous I didn't come up with it~ The one I did come up with is "Nosedive" specific but I could see it being applied outside of that context. (It's a smidge X-rated too….)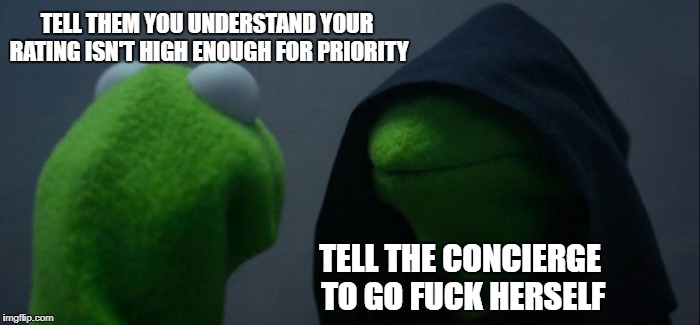 In my meme, I'm referencing a scene from the episode where Lacie Pound (the main character) gets into a bit of a disagreement with a flight concierge. I believe Lacie missed her flight and because her rating wasn't high enough, she couldn't be bumped up to priority for the next flight or something(?) Anyway, Lacie tried to keep her cool but failed spectacularly when she finally snapped and asked the concierge is she could just, "f*cking help her!" Seemed very meme-able to be. Also relatable like who hasn't wanted to curse out a customer service rep??? Even though it's not their fault. It's the impulse. And the frustration.
I used the ever-popular "Evil Kermit" meme~ Essentially, sith Kermit represents your inner or intrusive thoughts that typically suggest you do something you know you shouldn't but wish you could.
Making Memeing Meaning
So, I guess a big question that came up, in regards to both memes and "Nosedive", is, "What is this all about???" What kind of message is being conveyed?
In "Nosedive", I think a warning about the pervasiveness not just of social media but of its increasing usage as a place of self-validation is being presented. While it seems unrealistic at the time of this post that all social media applications will consolidate into one conglomerate, it is not unrealistic that the evaluative systems they use (i.e likes, or ups, or <3s) could be used to affect other things our lives. In some ways, this already happens. As Patrice mentioned in class on Tuesday, credit scores already affect large aspects of one's life and one's access–and those scores are readily available to anyone who wants to view them.
To be honest, I'm only vaguely concerned about anything close to what occurred in Black Mirror really happening but I did find the premise of this episode to be unsettling in that "too close to home" way. I worry all the time that people are becoming increasingly unable to properly appreciate moments in their lives. Like, nothing means anything unless it's posted online and validated by other people with likes or what the f*ck ever that yes, it means something. That really does worry me. It seems like we're getting closer and closer to performing our lives instead of living them. I love so many aspects of social media and of digital spaces and digital media but I'm also very concerned and scared about many aspects too. Some people simply can't seem to handle it and it's always those people who are setting examples. I hope a shift in how we use social media or in how we navigate digital spaces occurs soon. With education on the topic finally entering academic spaces, I hope that shift will occur soon.
As for the meaning behind memes, I love 'em.
And I hate 'em.
….If I had to choose, I guess I'd say I hate to love 'em but I love to hate 'em.
I think I made a post a while back comparing memes to the sprinkles of the internet. They're that dash of a little something extra that makes the internet enjoyable.
I still stand by that assessment. I think it's pretty accurate. Like sprinkles are not necessary for an ice cream sundae but they kind of make the experience, right? If they're not there, it's a noticeable difference. If memes weren't around, I think the internet would still be pretty great but it'd be missing that extra oomph that just makes the experience. Does that make sense?
I think memes are the glue that hold us all together omg I hate myself. They're possibly the most universal elements on the internet. They are relatable and they have resonance. Usually, they speak to some aspect of the human experience that we all understand, seemingly regardless of language or even culture in some cases.
For instance, my sister and I love Russian cat memes. We have been sending them back and forth to each other for months now and they never grow old. Do either of us speak a lick of Russian??? Я немного понимаю. (извините, принесите пожалуйста бутылку водки! (Excuse me, please bring a bottle of vodka!) is also good to know~) But no, we don't know much Russian between us. Still, these are enjoyable:
Memes are fast becoming the language of the internet. Which is of immense interest to me. At this point, I think it's obvious I find there to be an art to meme-making. Of the art, though, I'm particularly interested in how it seems to be reviving Dada and Surrealist ideals. I see traces of these movements in this new wave/form of creation. Actually, I've been tossing around the idea of writing my thesis on Neo-Dadaism and Neo-Surrealism in new digital media such as ELit, memes, and gifs. Also, Dada was a response to the absurdity of WWI–all these first world nations, commonly considered the pinnacles of culture, fighting over 50 feet of mud–and I'm curious if I could find a similar impetus in the real world for the resurgence of Dada forms in art. It's something I've already written a little about while reviewing a piece of ELit by Jason Nelson a few semesters back.
Anyway, I'm not sure if it's something I could do or who I would even consult about it but it sparks my creative interest and meshes well with my background in art history and fine arts, as well.
It's something this work has got me thinking of, at the very least.
****
Links
Selfie Post: Check out my thoughts on the Selfie medium. I analyse a few different viewpoints on the subject as well as discuss or, really, make a case for why the Selfie is a form of art and one that has meaning and value in our world. Highly recommend checking this out before our Twitter chat on Tuesday night (2/13).
This week's fave~
@netnarr I don't know what my hearts made of but it was given to me by someone I love~ 💜 #dda149 #netnarr pic.twitter.com/FUsLoEgnLB

— Kelli 🖤💀🖤 (@helterskelliter) February 6, 2018
Goodies
*Wisecrack on Youtube has 2 great videos on the philosophy of Black Mirror if you'd like to check them out. This one is pre-4th season and this one is after the 4th season came out. The latter looks at the show through the 4th season's last episode "Black Museum".
~Till Next Time~