(I want to die. The title of this post alone should make clear why. I deserve it.)
When I think of memes and gifs, sprinkles come to mind. Miscellaneous. Extra. Tasteless–sometimes… And, usually always unnecessary.
But, oh, so delightful.
That little dash of pizzazz to brighten your day. Put a teensy smile of your face. So superfluous but so pleasing. Appreciated because they are not necessary.
Now, though, it seems sprinkles are becoming a necessity. No longer little pick-me-ups but the only bright spots in these swampy dark and uncertain times. They provide an outlet for our frustrations and fears, a tool to expose hypocrisy and good ol' fashion duplicity, and a means to escape all of the above through laughter and jocularity. Memes and gifs are now more plentiful, widespread, and diverse than ever before–which allows them to be both a grounding force and one for dissociation.
Wow, never thought I'd meditate so hard on memes before.
Anyway, all that said, let's get to the garbage pieces-de-resistance I created.
//giphy.com/embed/jHMHGQDayd572
~~or the #netnarr Twitter stream on Wednesday nights~~~~
(video I used to make the above gif)
First, these are the ones I created in class last Wednesday night from this video. They could use a little finessing her and there but, for a first attempt at making gifs, I think they pass. Didn't think too much about relating them to Howard Rheingold and his philosophies this time around. (Just my own existential dread and disillusionment with the state of democracy or lack thereof in my country 🙂
//giphy.com/embed/u7eN6UIMCVvVu
Did get around to Howard Rheingold's philosophies in my next round of memeing. (God, is there any form of the word meme that doesn't sound like death approaching??) Actually, I had a lot of fun combing through the studio visit for meme-able–Honestly, don't you hear death coming??–expressions from Howard. He is very, delightfully expressive. A human sprinkle.
All of the below memes were made using imgflip and my own creativity. Two were made from screenshots I took and two from images provided by imgflip that I personally find delightful.
So, on the topic of Order, here's what I came up with:
Make your own with the "Here's Johnny" meme
And, on the topic of Chaos: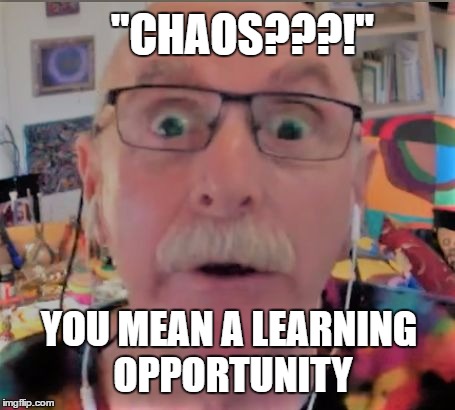 Make your own Persian Cat Room Guard/Confused Monkey meme
Lastly, some all-in-good-fun, self-depreciating memes of myself ;P
What Makes Me HaHa (self-titled)
Recognize the sigh? It's from last Wednesday night's other activity–the human graph. I found it hilarious. (The header image from this post is a third companion to these. Link to the song reference in the header image.)
'Fraid there'll be no links to creating your own versions of this one. Shadow girl–and her sister *cough*–is the only one allowed to meme herself. She's sensitive…. ha haha ha ha haha….
So, that's it for this week. I'd close with a La La Gif but I couldn't get it to work–disappointing
From looking at their bug/request list, it seems like that's a running problem.
Anyway, home you enjoyed exploring this–shudder–Gif in the Alchememetrix. Hopefully, I will never have to utter that phrase online or in public again 🙂